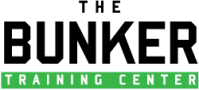 Urb. Zaguan del Cielo R-15.
Follow Lucrepata street from the San Blas Market for about one minute. Look for the large, white building below with the Bunker sign.
The entrance is around the back.
---
Siga calle Lucrepata del Mercado de San Blas durante un minuto. Busque el gran edificio blanco de abajo con el signo Bunker.
La entrada es por la parte trasera.